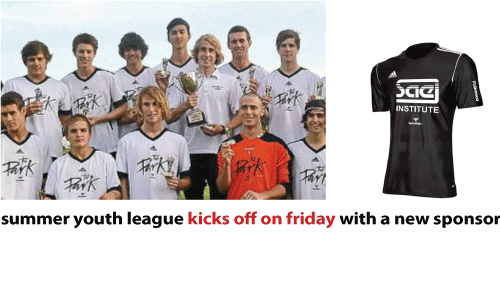 Our young boys are back with a vengence, kicking off at home this Friday night at 6.30pm against Ballina in Week One of the Summer Youth League.
Byron Bay Football Club are proud to announce sponsorship of our SYL squad by SAE Institute in what is a first for them at both a local and national level. SAE Institute think its an extraordinary opportunity to support local youth and promote a culture of healthy lifestyle choices. Thank you SAE Institute!
At the helm for the third season in a row, Coach Jonathan Pierce will be doing his best to encourage and develop our young players. As a squad, they will be defending their championship status to make it a hat trick.
A word from our sponsors
SAE Institute is renowned as Australia's definitive creative digital media education provider with a practical, industry focused, specialist curriculum including Audio, Film, Electronic Music, Live Sound Production, and Interactive Digital Media – all aligned with emerging industry trends and technologies.
Our global network of colleges are located in some truly fascinating locations, our accredited Degree programs, internationally recognised, making your study and career passport truly global.  Our dedicated industry professionals are credited with developing artistic independence and creative confidence in our students. Our facilities unrivalled here at our Headquarters and National Centre of Excellence.  We're delivering industry calibre graduates into proven career outcomes, making SAE an inspired choice for any students seeking a career in the creative media industries. We think you'll agree that our campus habitat (including on-campus residency), nestled amidst the abundance of natural attractions including National Heritage rainforests and pristine beaches, makes it a destination of choice.
To find out more about the courses we offer visit our website or join our community Facebook | YouTube | Twitter.