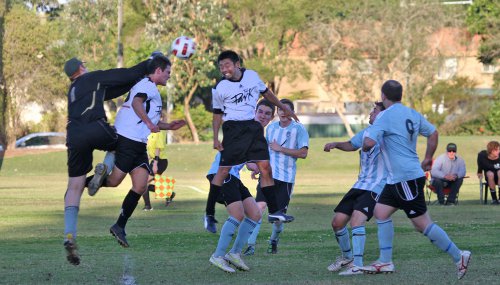 [singlepic id=467 w=500]
It took just 11 minutes for Byron Bay Premier League football team to score 4 goals against the Ballina Seahorses at Saunders Park in Ballina on Friday night. In a pre match interview Coach Peter Ware said "Ballina may be 3rd from the bottom on the table however we respect every Premier grade team. Ballina are hard at home especially at night in front of a very parochial crowd. We will be focused on the end result". It took just 2 minutes before a brilliant passage of play resulted in the first goal. Rams defender Jonno Pierce sent a long pass to flanker Tim Knight. He ran the line and sent a beautifully weighted cross to Tommy Ruhl in front of goal to head into the net. A few minutes later the Ballina keeper made a mess of a goal kick. It hit the head of one of his defenders. The deflection bounced back and Ruhl ran onto it and the keeper had no chance to stop his shot. At 9 minutes Knight sent a pass to Pierce, he evaded the defence, dummied a pass and shot instead, fooling the keeper to score 3-0. At 11 minutes another inspired set of passing from the Rams midfield Sammy Owens, Knight and Pierce got a pass to Brazilian Victor Pires in the penalty area. He evaded the weak defence and slammed it home past the hapless Ballina keeper 4-0.
With the raucous local crowd silenced and dejected by the Rams blitz, their team seemed to lose heart as well. Rams coach Peter Ware said at half time "It was some of the best Premier League football I have ever seen" The Rams settled into a pattern of total domination of the ball for the rest of the game by midfielders Layton Barton, Aaron Richter-Steers, Lachlan Dewar and Pires. They knew they could back right off & save their energy and bodies. The Byron defence of Pierce, Ian Lennie and Sam Robson was rarely troubled. Pierce Essery in the Byron goals only had to make a single 1 on 1 save all game but it was brilliant. Full of confidence, the boys just started practicing trick moves, and unlikely shots on goal and toyed with Ballina. The rest of the game was just like a training session until 7 minutes from the final whistle defender Sam Robson made an attacking run and crossed a beautiful ball to Sam Owens. He slammed it into the net with a diving header to seal Ballina's final humiliation 5-0.
Rick Knight